January 26th, 2010 |
audio
,
Raw Food Interviews
,
Take the Time Tuesday!
|
8 Comments (Thanks!) »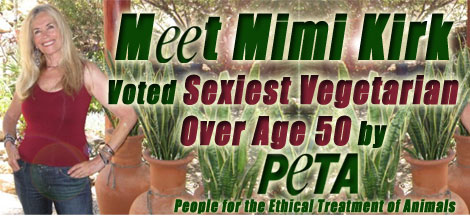 Today for "Take the Time Tuesday," we'd like you to take the time to meet Mimi Kirk, whom many of you may know as the winner of PETA's "Sexiest Vegetarian Over 50″ contest last fall. If you're interested in longevity, and how diet influences the way we look, act, think, and exist, then you'll definitely want to listen closely to what this vibrant woman, who is 71 years young, has to say. We spoke with Mimi for nearly an hour this weekend, and are happy to share her inspiring interview with all of you. Below, you can listen right here, or download a podcast MP3 version.
Listen Now!!

Click the player above to listen here, or download the MP3 file here (right click the link and choose "Save file as…" to save to your hard drive for your own use). 
Topics covered include:
What PETA thought about raw foods
What it was like to win that contest and what influence that has had
Her path to raw; why she became vegetarian, then vegan, then raw
How long she's been raw & what differences she's noticed
Her theories on aging and why diet is so impportant
Why people today are aging prematurely
Her recommendation for starting your day
Duplicating tastes of other cooked foods
Her routine / how she prepares food on a regular basis
Her thoughts on supplements, herbs, protein, B12, etc.
The winning combination for ultimate longevity
Why so many younger women are fans
Why cooked food is like smoking
Her thoughts on menopause and natural vs. conventional approaches
Her thoughts on medicines and drugs
Why healthy living and heathy eating is so critical for healthy aging
Skin issues associated with aging and whether raw helps
What it's like to know people the same age who are in very ill health
Benefits of spiritual practices / meditation / attitude
Her thoughts on finding your place with food / diet
Thoughts on longevity & healthy, older others she knows
Progress on her upcoming book
To learn more about and connect with Mimi, you can: