June 13th, 2011 |
Raw Food and Raw Foods Diet
,
Vegetarian Athletes Share: Protein
|
4 Comments (Thanks!) »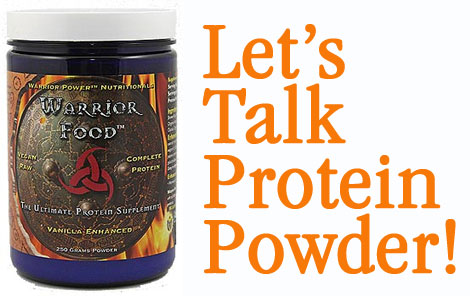 We get asked from time to time about whether we like to use protein powders and, if so, which brands we like. As you'll no doubt notice after getting into raw foods for a while, raw foodies (just like quite a lot of health-conscious people) often get into various powdered food additives. Some purists are against their use, of course. But, we're not so dead set against them. We do, however, believe that, if you're going to put something into your body as part of a health program, you should be conscious about it.
A few months ago, Wendi decided that she wanted to add some protein into her diet in the form of a protein powder. She did quite a bit of research at the time into the various brands available, charting out which ones were raw, which ones had various ingredients, and so forth. It was a fairly in-depth study, done for personal reasons unrelated to Pure Jeevan's blog articles. So, we never mentioned it before.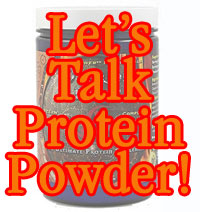 In the end, Wendi eliminated many, many brands, leaving relatively few contenders for our business. The strongest one, we felt, was the "Warrior Food" line put out by Healthforce Nutritionals. A Zing-link directly to that product is http://tinyurl.com/warriorfood. It's about $45 for a kilo, which comes in well under a buck/scoop — not too bad. (I'm sure there are other great ones, too. This endorsement doesn't mean to discourage anyone from trying other products. It simply means that it's the one we selected.)
At first blush, the product name seemed to me a little cheesy on the marketing. I mean, we were just after a little extra protein, not looking to overthrow Attila the Hun. But, aside from the perhaps over-the-top graphics and flashy packaging, it turns out that a truly quality product awaits. The main ingredient is 100% organic sprouted, raw, non-GMO brown rice protein, plus a little hemp protein and nopal cactus thrown in for good measure.
As for taste, that's so subjective that it's tough to describe what it'll be like for everyone. For me, it adds a rich dimension to smoothies. I wish I knew a better word than "chalky" (because "chalky" surely sounds bad), but I suppose the richness is kind of a dry, malty richness that I find pleasant. I even crave it quite often now! As for whether I feel like a warrior… well, the jury's out. I do feel well fed and nourished, though, after such a smoothie. They're richer than a normal smoothie, and perhaps a bit heartier.
It comes in a few varieties — regular, vanilla, and (I believe) chocolate. I recommend purchasing the regular variety for a few reasons. First, its ingredient base is simpler and less diluted by other flavorings. Second, you can always tweak your powders with your own preferences. I've tasted their vanilla variety (and do like it), but I've found that buying the regular one and then adding some vanilla extract is preferable to me.
Tomorrow and Wednesday, I'll share a few of my favorite protein powder smoothie recipes. We're absolutely dying to get back to doing live demo's again, by the way. However, our kitchen renovation is not yet complete. Soon, though, we'll be able to just show you these kinds of things on video.
That link again is http://tinyurl.com/warriorfood. (If only I could offer you some Ginsu knives for clicking that, I'd be a marketer extraordinaire!)