July 13th, 2011 |
Produce Buying Tips
,
Raw Food and Raw Foods Diet
|
7 Comments (Thanks!) »
I'm fairly sure that we've covered how to *open* a  young coconut (also known as a Thai coconut). It seems like each raw food site has a video and/or article about that. I think it's actually a commandment in the Official Raw Foodism Bylaws somewhere: "Thou shalt show everyone how to open a coconut."
But *selecting* them… that's something that's not often covered in-depth. It's an advanced topic — super-advanced, even. So, are you ready to learn the secrets?
Here in Portland, we had to search around town quite a bit to find a decent, affordable source. As produce goes, young coconuts are not the most common item and, as such, can really confound people when it comes to (1) finding them, (2) finding *good* ones, and (3) not paying an arm and a leg for them.
As of this writing, prices vary widely in our market. At the gourmet stores (think Whole Foods or New Seasons), they run upwards of $5 each(!), which is probably twice what you can get them for elsewhere. After searching around, we found a source for $2.48 each — affordable, but still more than we once paid in Pittsburgh. (Our co-op there offered them for about $1.50 each a few years back, as long as you bought a case of nine.)
Hopefully, you'll find a source that offers a decent selection from which to choose, and at affordable prices. Really, the purpose of this article is two-fold: (1) to encourage you to eat more healthy young coconuts, and (2) to help you save money while doing so. If you have to spend $4 for a coconut, then you really should be doing all you can to get the best coconut possible and avoid having to throw it out.  After all, if you toss out a $4 coconut because it's bad, then that means your next coconut is really an $8 coconut — and that's plain crazy!
Before beginning, let me just say that I realize some young coconuts (e.g., ones I've seen in the D.C. area) are available still in their hard, greenish or yellowish shells.  In my experience, this is unusual in the U.S.  If you can find them this way, then I'd say you're likely getting some fresher coconuts than the Thai ones — possibly domestically grown. (In Florida, it was easy to find them still with their shells. Many people there will gladly give you coconuts right from their trees, in fact! And, oooooh, friends, fresh-from-the-tree coconuts are divine!)  Here's yours truly doing a little coconut juggling with some full, whole-green-shell, beauties: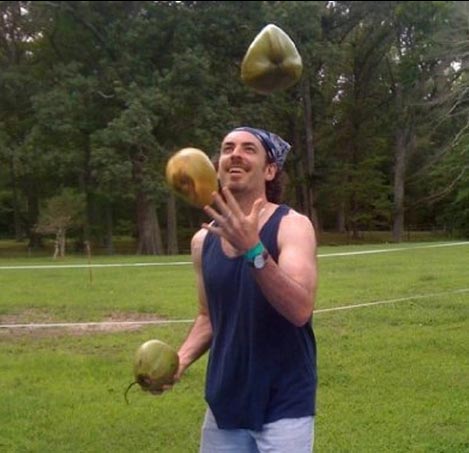 Outside of the southern U.S., though, you'll commonly find young coconuts pre-husked and looking more like this (except that they'll be wrapped in plastic):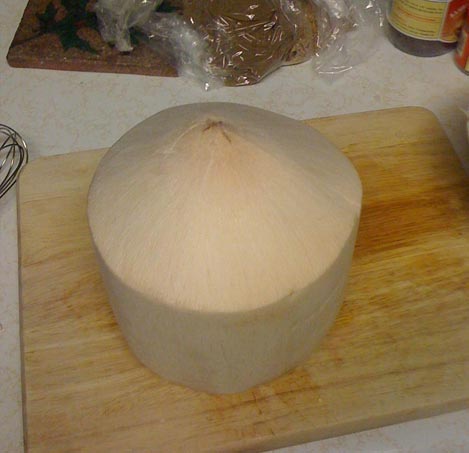 Here's my process for selecting them:
I look at each and every coconut that the store has on display! The Asian market I go to has a fairly large case of them, so this takes time, commitment, and the ability to maintain a complete disregard for what others surely think of me as I inspect every inch of every coconut. The display case is low to the ground at our store, so I sometimes wind up crouched down low, not infrequently sitting directly on the floor — which, granted, is weird and likely unacceptable in all venues. But, as I said, you have to have commitment to the cause.
In the coconut world, white is the best. You really want to look for the whitest, brightest specimens — with as little discoloration as possible. (This isn't always possible, though, so don't panic if you can't find a "perfect" one.)
Look at the bottoms. Do you see large fissures or holes?  Avoid these ones! I've taken chances on a few, but have been burned a few times, too. It's best to avoid the ones with fissures, if possible.
Again with the bottoms:  Do you see mold anywhere?  Avoid these ones, too! Personally, I won't eat a coconut if it shows mold on the outside. This is a zero-tolerance area for me.
The bottoms are often much softer than the rest — and this is generally acceptable. But, if it's *too* soft, it could mean a bad coconut. Make sure to feel a lot of them and you'll develop a feel for what's acceptable and what is not. But, really, color usually trumps everything else. If it's nice and white everywhere, then it'll generally be nice and white inside, too.
Look at the sides.  Again, the whiter the better. As they age, I find that they tend to yellow a bit. I commonly find a bit of yellowing at stores — and I'll often take a chance on a few of them. But, ideally, it'll have little to no browning anywhere.
The tops, again, are ideally as white as possible. You'll find that the tops will be among the first parts of a coconut to go brown with a bit of age. The husk is thinner here, and it really is a good indication of freshness to find one that's as non-discolored as possible. But, really, I'll take a chance on one that's slightly discolored on top if it passes all of my other tests.
If you see small bits of green here and there, don't panic — that's usually just tiny pieces of the original shell that they did not fully cut off.
Look everywhere for pink. If you see pink, don't buy that coconut, as it'll almost certainly be a bad one. Unlike Molly Ringwald, coconuts are not Pretty in Pink.
Once you've purchased your coconuts, they'll generally stay good for a week or two in your refrigerator. Ideally, a coconut will have bright white inner flesh, and relatively clear to slightly milky water.  My own rule is to consume them as long as they're not pinkish (or any darker) inside. Occasionally, you'll find ones that are mostly water and hardly any flesh. These generally appear somewhat darker inside since they do not have much white flesh there, but may still be okay to consume. If you get one of those, just taste the water to see if it tastes acceptable. But, again, if you see pink flesh, you should just write that one off.
_________________
Photo Credit: Young coconut photo by The DLC on Flickr (Creative Commons).