February 2nd, 2010 By
Wendi Dee
and
Jim Dee
|
Pure Jeevan Guides
,
Raw Food and Raw Foods Diet
,
Raw Foods 101
|
34 Comments (Thanks!) »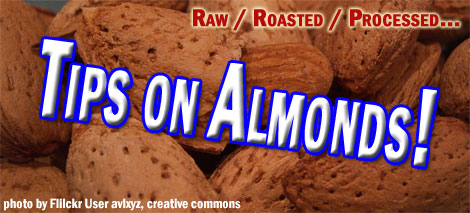 At a recent raw food meetup, I was surprised that so many raw foodies aren't aware of the raw almond controversy. Maybe most of our Pure Jeevan family members aren't aware of the fact that most almonds are not raw. It's sad, but very true. In 2006 a mandatory almond pasteurization ruling was created. The rule was passed sometime in 2007, I believe, and since then it's been near impossible to purchase truly raw almonds. Maybe pasteurized almonds don't seem like a big deal to most people.
Raw almonds are alive, yet dormant until they are soaked. Once soaked (or moistened in the springtime rains when outdoors), they sprout to begin growing into almond trees. Once soaked and sprouted, the nutritional content of the nuts change significantly. They are alive and filled with protein and so much more!
When foods are pasteurized, they are treated in one way or another that eliminates the possibility of molds or bacteria forming on the foods. However, the treatment also renders the foods dead. I don't know about you, but I'm not into eating dead things. Life comes from life!
I'm passionate about the raw food diet, as most of you already know. So, when I heard about the mandatory almond pasteurization ruling, I was extremely upset. I felt helpless and needed to find a way to let others know that they would be eliminating a nutritious food from my diet (and the diets of many others, as well) if they killed the almonds with the pasteurization process. I figured those making the rule probably didn't realize that the almonds would change in a way that wasn't healthy for the human body. So, I sent out many letters, trying to educate others about the precious little almonds. Here are some old Going Raw Journal posts I made at that time about the ruling.
Here's a post I wrote at the beginning of my raw journey. It's about the outrageous price of organic raw almonds and why they were so expensive for a long time.
 
In this old Going Raw Journal post, I announced the mandatory almond pasteurization and individuals to contact about the ridiculous ruling.
I sent out hundreds of emails about the ruling, hoping to bring attention to the harm that was being done to the almonds (and essentially our health).
Here, I share a very strange dream I had about the almonds, and my frustration after talking with the chairman of the almond board.
 
After repeated discussions about the almond pasteurization with the chairman of the almond board, I was saddened to hear that he felt helpless, as well, about the ruling. I wrote a bit about my thoughts on freedom and breaking free from the bonds we, as a society, have created for ourselves.
The sad news is that even with so many other people out there speaking up for the raw almonds, the ruling was passed. It's now nearly impossible to purchase truly raw almonds. Many sellers label their almonds as raw, but in all of my testing 99% of those almonds are not truly raw. I've even contacted some very big name raw food suppliers to ask about (and purchase) their almonds, only to find that their almonds aren't raw, either.
Here's a simple test you can do to determine whether your almonds are truly raw, or not. I learned this from the lovely Rhio, of RawFoodInfo.com last year. At first it brought hope to my life, because I could then test and begin eating raw almonds again. However, it was at that point that I realized truly raw almonds are nearly impossible to find.
RAW ALMOND TEST
Place one cup of almonds into a bowl
Cover almonds with water and let sit for 12 hours
In the morning, drain and rinse the almonds
Squeeze the almond to see if you can remove the almond from the skin.
If the skin can be removed by the skin kind of sliding off the almond, the almonds have been pasteurized in some way. The easier the skin removes, the more treatments the almonds received.
If you have to use your fingers to peel the skin off the almonds, piece by piece, then the almonds have not been pasteurized.
When Rhio told me about this test, I knew it was accurate. I remembered years prior to the almond ruling how it was a difficult job to soak and peel almonds in order to create beautiful white almond milk and almond sour cream. My fingers would feel sore after painstakingly using my fingernails to help me remove the skins of the almonds. The pasteurized ones peeled as quickly as ones that have been blanched in boiling water.
Maybe you're still wondering what the big deal is? Well, I'd like to repeat what I wrote earlier: Life comes from LIFE. If an almond can't sprout, they aren't alive. None of the pasteurized almonds that I've sampled have been able to sprout. They are DEAD. Our bodies thrive on living foods, not dead foods. It IS a big deal to those of us in the raw and living foods community. If others understood the importance of living foods, they'd understand how big a deal this is, as well.
So, there you have it. Go ahead and test your "RAW" almonds and report back on what you've discovered. If you haven't sourced the almonds directly from a trusted almond grower, you're most likely going to be disappointed in what you find after doing the test.
34 Responses to "Most Almonds Are NOT Raw: Here's a Simple Test"
Leave a Reply